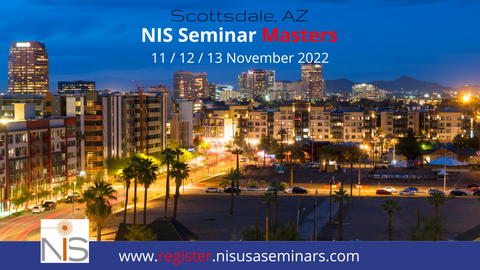 USA Masters Seminar - Scottsdale, Arizona 2022 (Late Registration)
NIS Masters presents NEW and advanced protocols that build upon NIS Foundation.
NIS Masters incorporates the latest NIS research of Dr Phillips clinically tested and reviewed. NIS Masters will assist the practitioner facing the most complex of clinical problems.
NIS USA MASTERS 2022
Presented by Dr Jim Bentz D.C - Dr Phillips will be presenting on Zoom broadcast.
Doubletree Resort – Paradise Valley
Scottsdale, Arizona USA
November 11,12,13
Please check that you are eligible to travel to USA.
Contact: www.nisusaseminars.com email: info@nisusaseminars.com
Practitioners whose previously attended any of the Masters seminars in 2019, 2020, 2021 or 2021 (digital) are eligible to attend this seminar.
All practitioners must be current Academy Members.
Practitioners that have complete NIS Foundation (or NIS Foundation digital) 2019, 2020, 2021 or 2022 are eligible with current academy membership.

3 Day Intensive seminar and practical workshop.